For those that owns a 3D-printer (or knows someone with one), I have created a sunglasses tray (which can obviously be used for other items as well) that attaches to the rear card slot in the center console of the ID.4. It is a two part print, both to avoid supports, but also because the blade that goes into the card slot needs to be printed in an orientation that will ensure it can't break (because getting a broken piece out of the card slot could be difficult). If the layer lines (for a FDM print) are parallell to the slot, then it will be prone to breakage.
I am aware that other similar designs exists, but I don't think there are any where you can purchase the files to print for yourself. There's a complete description at my Cults page: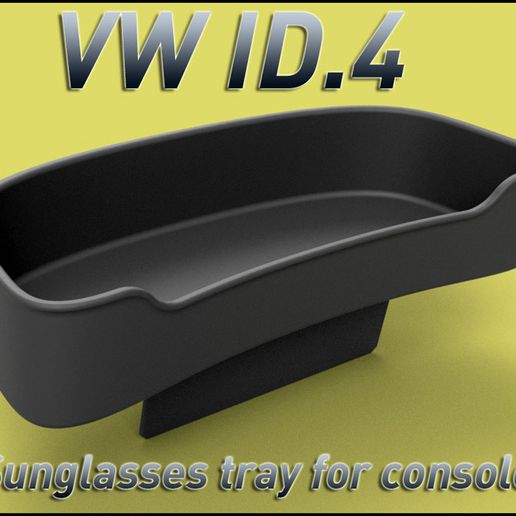 The ID.4 lacks a dedicated and easy to reach place to store your sunglasses or other small items, like RFID tags. It does however have two (credit) card slots at the front of the center console . This design uses these slots as a fixing point for a custom fit tray to solve this issue. Note that...
cults3d.com
Be aware that this tray has been designed to rest on top of the piano black part of the console, the blade going down into the card slot is not taking any weight. It will however keep the tray firmly in place, so the risk of scratches to the console will be minimal. If this is a worry, then simply add some protective film to the console where the tray touches it, or place some fleece tape (or other soft material) to the underside of the tray in these areas.
I also created a short video, showing the tray assembly and mounting in the car:
The price listed is just a guidance, actual price to purchase the files will fluctuate due to currency, so visit the Cults3D link to see the current price.
One final note: Purchasing these files only gives you the right to print for yourself (or have it printed for you by a print service or another individual), commercial usage is not allowed, so printing and selling to others is illegal.