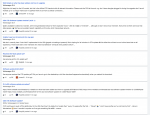 ... and a number more threads, now including yours. 🤦‍♂️
btw: 0792 = V2.1 which is what all in the USA currently have (FE installed in receiving port circa March of this year, with follow on Pro/Pro S factory. V2.3 is the anticipated first USA OTA. However given that it hasn't happened anywhere near the anticipated timeframe we may receive a later edition. 🤷‍♂️ Note that some in Europe have received V2.3 and not many features/improvements added, at least not to end user perception.
My software is 0792 and control unit software is 6071. When will these versions be updated?